Are you wondering how to write your homework like: college papers, articles and master's or graduate essays faster? In this article I will explain how to do it using artificial intelligence tools.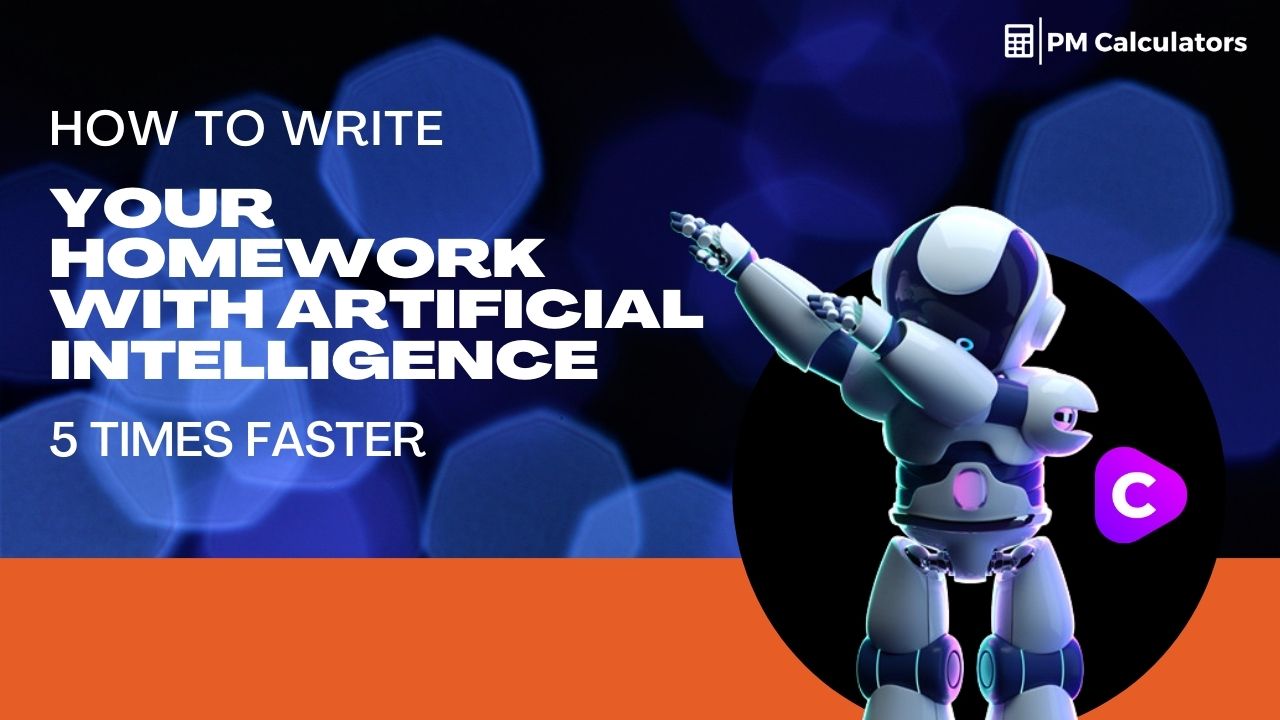 In our student life, we have all experienced the struggle of finding the time and inspiration to complete our term papers. This gets complicated when you don't like the topic, you have homework piling up, if you don't know how to start or how to finish your essay and/or article, if the quality of your text is poor, etc. Still we have managed to finish our assignments and homework on time. However, if we had the support of a writing assistant that would allow us to work faster…you would feel much better for sure!
That's why we introduce you to Conversion.ai, a tool that uses artificial intelligence to create high quality texts quickly and easily.
This company, which emerged at the beginning of 2021, is oriented to the creation of marketing content using the famous Ironman's assistant: Jarvis (that's how they have named their artificial intelligence).
Jarvis offers different templates for creating texts, like the product description, persuasive text for social networking, and email in general; however, the one that will help us to accomplish our homework the fastest is "Long Form Content".
This template helps us generate complete articles on various topics rapidly and easily; and what's more, it helps us fight the writer's block when writing essays.
How to write your homework faster using Jarvis
We will use this application for our essays, reports and papers by doing the following:
Our writing project will be created by choosing the "Long Form Content" option.
We explain the topic of the article to be written. It is crucially important for us to be as specific as possible since this will be the basis upon which Jarvis will create content.
In the "Keyword" field, we will provide Jarvis with some keywords that we wish him to keep in mind when writing the document. This point is not mandatory.
You can place your title directly on the template or generate ideas and select one that you like the most with the application.
Before the writing assistant starts, you need to write the introductory paragraph of your article. Jarvis will also help you generate ideas, which you can pick the idea that appeals most to you. In case you aren't satisfied with the three ideas generated, you can create more.
Finally, we will get a text editor where we will develop our topic and using the "Compose" button we will generate the text, which we will correct until we finish our article.
Below is an example of texts generated by the AI for the inputs entered above and 5% of texts entered by us to guide the output:
Example:
"Project management is a process that ensures that the project at hand is completed on time, within budget, and to the desired quality. Project management encompasses many different aspects of a project such as scope planning, scheduling, cost tracking, and reporting. This article will introduce you to what it means for projects to be managed effectively and how this can help your business.
##What are the parts of project management?
The parts of project management are:
Scope planning – This is the process of defining and detailing what needs to be done in order to accomplish your goals. It includes identifying key elements such as stakeholders, end users, vendors or resources that are needed for the project.
Schedule Planning – The next step after scope planning is determining how long it will take to complete each phase of the project.
Cost Tracking – It is important to track all expenses so you can predict when your funds will run out, leaving enough time for a contingency plan if necessary. You should also keep an eye on any changes in cost by reviewing updates and making adjustments as needed.
Reporting – Communication with stakeholders, end users or other interested parties is vital to the success of any project. Regular communication with these groups keeps them informed about what you are working on and what they should expect in the future.
Risk Management – It's important to identify, investigate and mitigate possible risks by using a variety of strategies such as change control or disaster recovery plans if necessary. When it comes time to launch your project, you should be confident that it is as close to risk-free as possible.
Quality Control – Ensuring that every element of the project meets with certain standards can help ensure that the project is a success. This might be through inspection, quality assurance checks, or other methods to ensure everything meets your standards for quality.
Monitoring and Controlling – Once you've completed all of the tasks in a project timeline, there are still some things left to do: monitoring if anything slips past deadlines, resolving any issues found, and controlling the cost."
Although the generated text requires some editing, most of the information is very useful to continue writing our article; therefore, it is very helpful for our university papers.
How to use it efficiently:
Although this tool helps us to write faster, it does not mean that it will perform the entire article automatically; on the contrary, being a writing assistant, it requires supervision and guidance from us to guide the perspective of the text to be created. In that sense, for optimum use of the tool, we recommend following these instructions:
1. Confirm the information written by Jarvis.
Conversion.ai's artificial intelligence works with OpenAI's GPT-3 technology; in that sense, it is important to verify that the information it provides is correct, especially when it shows numbers, dates or people.
2. It works best for general topics:
The tool is excellent for writing articles related to broad topics such as Business Management, Marketing, Logistics, among others; however, it will not be as effective in very technical or specific topics; for example: Aspects of Classical and Quantum Dynamics of Canonical General Relativity.
3. Provide guidance on what content we want to obtain:
The tool operates according to the inputs and the order you provide; the better the quality of the inputs provided, the better the results you will get; for example: You can use the text in conclusion, so that Jarvis writes you a conclusion, or use for example, so that he identifies that he should present effects. This tool also interprets dashes or numbers and returns data in the form of a list. A subtitle is indicated by using two hashtags.
4. Be careful with an inappropriate subject:
Artificial intelligence has been set up to avoid dealing with inappropriate content such as adult content, politics, and so on.
5. It doesn't mean it will do all the work for you:
The purpose of Jarvis is to help you write better content, much faster. However, it cannot replace the quality and reliability that a person has instilled; thus you must always supervise and direct at all times for that the end product is good.
Cost:
This tool costs $99 monthly (starting May 01, a new price will be introduced) to allow you to generate documents in an unlimited way and to get 3 workspaces. (That is, a single subscription can be used by 3 different users, so you can split the cost among them).
Although the cost of it may seem high at first; we believe that the time savings you will gain by using it for your to-do list, to perform other tasks, outweighs the cost. Anyway, you cantry it for 5 days for a maximum of 10000 words and confirm if it's what you need for your projects. The total number of words is also sufficient to save you some trouble with some jobs.
Other AI Content Generation Tools:
In 2021, the market for content creation with artificial intelligence will grow rapidly, leading to more competition which will result in better quality and lower prices for users. We consider Conversion.ai to be the best tool available, with a wide variety of features, tools, the best workflow and support for multiple languages. Nevertheless, there are other choices you can make that you may find useful:
Using artificial intelligence, this tool can also produce content; however, it does so with block generation, which implies that you have to generate each part of your content in turn, resulting in decreased productivity. With a $59 lifetime unlimited-use license and a 60-day money-back guarantee, it is a much more affordable deal than Conversion.ai.
This tool does generate long-form content, which can be useful for writing our papers; however its workflow is different generating content by sections, as you can see in this video. Anyway you can take a look at the monthly plans on their website; or purchase this lifetime license (with limited credits) for $59.
Similar to Nichesss in block text generation, with unlimited credits and with the added bonus of being able to create certain automations through webhooks and API access (for advanced users). A lifetime offer is currently running at $69.
This tool has a long-form content writer similar to Writesonic, but limited to three subject headings, as you can see in this video. At present, it offers only a monthly plan starting at just $29, but with limited credits.
This is one of the newest GPT-3 tools on the market and one of the best in terms of user interface. It has a content editor that makes it easy to create long texts using individual blocks. This provides flexibility when working. Monthly plans start at $36.
This is an excellent tool for creating long articles. It competes directly in this functionality with Conversion.ai. The disadvantage is that it does not support other languages and the monthly subscription cost per user is $39.99. If you get an annual subscription, you could save up to 40%.
Copysmith is probably the oldest AI copywriting software on this list and is among the best-known and best-funded companies in this niche. It has a long-form content generator similar to Writesonic and Contentbot. Its plans start as low as $19 with limited credits.
Being a relatively new market, these tools are evolving rapidly, so in the coming months their functionalities may improve a lot, as they are in constant development. Even so, Conversion.ai is consolidating its position as one of the best content generation tools available today.
Final Reflection
Technology is growing by leaps and bounds, and what once seemed like a distant future is now part of our present. We are sure that these tools can increase your personal productivity at school/university and even at work when writing your projects, essays and/or reports.
If you have any questions about these tools, you can write to us at [email protected]; and we can give you more information about them.